Want to go truly in-depth with Reason 6.5? "Going Pro with Reason 6.5" The Book
|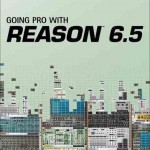 Want to go truly in-depth with Reason 6.5? The book Going Pro with Reason 6.5

by G.W. Childs IV gets you there.
GOING PRO WITH REASON 6.5 is an expert level book that addresses the needs of the professional Reason user. This book picks up where the manual leaves off, offering concise, workflow-oriented tutorials on setting up complex productions and workflows for both song creation and producing tracks. Whether you are preparing to compose or produce, and whether you will be in studio or live environments, this valuable resource holds the keys to taking your knowledge to the next level.
Benefits
Facilitates application with step-by-step instructions for advanced production in Reason 6.
Includes advanced Reason tips and tricks from a professional in the field.
Uses tutorials that mimic actual recording sessions so material can be easily transferred to real-world scenarios.
Table of Contents
1. Techniques for Customizing Reason's Preferences for your Workflow.
Setting up your own Template. Setting up Multiple Controllers. Setting up a Control Surface. Setting up External MIDI Sync. Remote Override Edit Mode and Templates. Setting up your Sampling Input. Setting up your MIDI for use in a Rewire Project.
2. Song Creation Workflows in Reason.
Using Blocks for Quick Song Creation. Using the Blocks feature as a Marker System. Using the Tools Menu for Tempo Adjustments. Using the Tools Menu for Quick Multiple Part Creation. Alter Notes for Quick Melodic and Rhythmic Alternatives. Randomize Notes for Inspiration. Working with Dub Tracks. Working with Alt Tracks. Using the Reason Tools and Shortcuts for Easy Workflow. Labeling Devices and Reason and How it Affects Mixer Labels. Workflows for Easy Automation in Reason.
3. Sampling and Sample Editing in Reason.
Sampling with Redrum. Sampling with Kong. Sampling with the NN-XT/NN-19. Setting up a Sample Loop in Reason's Editor. Working with the Sample Editor. Working with the Song Sample Payne in the Tools Window. Assigning Samples from Other Instruments. Importing Samples from Wav and Aiff. Exporting Samples from Reason. Creating Thicker Synths with the Combinator.
4.Rewire Workflows and Using Reason with Other Producers.
Using Rewire to Send Multiple Audio Channels to your DAW of Choice. Importing MIDI in to Reason. Tricks for Exporting MIDI from Reason and then Rewiring with your DAW. Using a Reason Instrument via Rewire in another DAW. Exporting Audio Stems from Reason in to another DAW. Creating a Refill. Creating a Combinator out of an existing Song. Importing Akai Based Sample Libraries in to Reason.
Going Pro with Reason 6.5
Disclosure of Material Connection: Some of the links in the post above and on this site may be "affiliate links." This means if you click on the link and purchase the item, I will receive an affiliate commission. Regardless, I only recommend products or services I use personally and/or believe will add value to my readers.
To Learn more about affiliate marketing and how to make money online join me on Wealthy Affiliate. These guys offer: Free Membership, Websites & Training to get you started.