Shop—Neutron Reason Rack Extension
|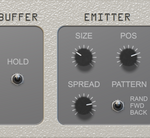 Neutron is a creative effect that brings basic granular synthesis to the Reason rack. Neutron can transform sound into harsh grit, pops, and clicks, and chop sound into small staccato pieces. But it can also blend several seconds of sound into a single continuous, slowly evolving, mushy soundscape. Neutron is capable of creating a huge range of widely different effects that are difficult to achieve with the Legacy devices in Reason, and tweaking its controls often yield surprising and delightful results.

Disclosure of Material Connection: Some of the links in the post above and on this site may be "affiliate links." This means if you click on the link and purchase the item, I will receive an affiliate commission. Regardless, I only recommend products or services I use personally and/or believe will add value to my readers.
To Learn more about affiliate marketing and how to make money online join me on Wealthy Affiliate. These guys offer: Free Membership, Websites & Training to get you started.