Propellerheads Reason Tutorial: WaveShaper Combinator Effect w/ Malström
|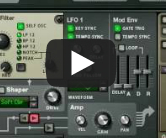 In this new video tutorial titled To Waveshape the Future, Dubspot instructor and electronic music producer Chris Petti shows you how to create a WaveShaper Combinator effect patch from scratch using Propellerhead Reason's powerful synthesizers Malström and Thor. First, Petti starts with a fully-built WaveShaper effect patch plugged into to the output of Thor (which is generating an unprocessed sine wave) with a series of real-time controls mapped to Combinator. When the WaveShaper is engaged, the unprocessed sound is transformed dramatically. Then, in a step by step process, Petti demystifies the method he used to create the effect patch and shows you how to build your own WaveShaper effect from scratch, utilizing with a blank combinator patch. At the end of the tutorial you should have a good grasp of how to Wave Shape (process, bend, twist, or modify) any incoming sound and make the lead elements in your tracks more effective and lively.
Disclosure of Material Connection: Some of the links in the post above and on this site may be "affiliate links." This means if you click on the link and purchase the item, I will receive an affiliate commission. Regardless, I only recommend products or services I use personally and/or believe will add value to my readers.
To Learn more about affiliate marketing and how to make money online join me on Wealthy Affiliate. These guys offer: Free Membership, Websites & Training to get you started.