House Acoustic Guitar Sample Library – Free Samples
|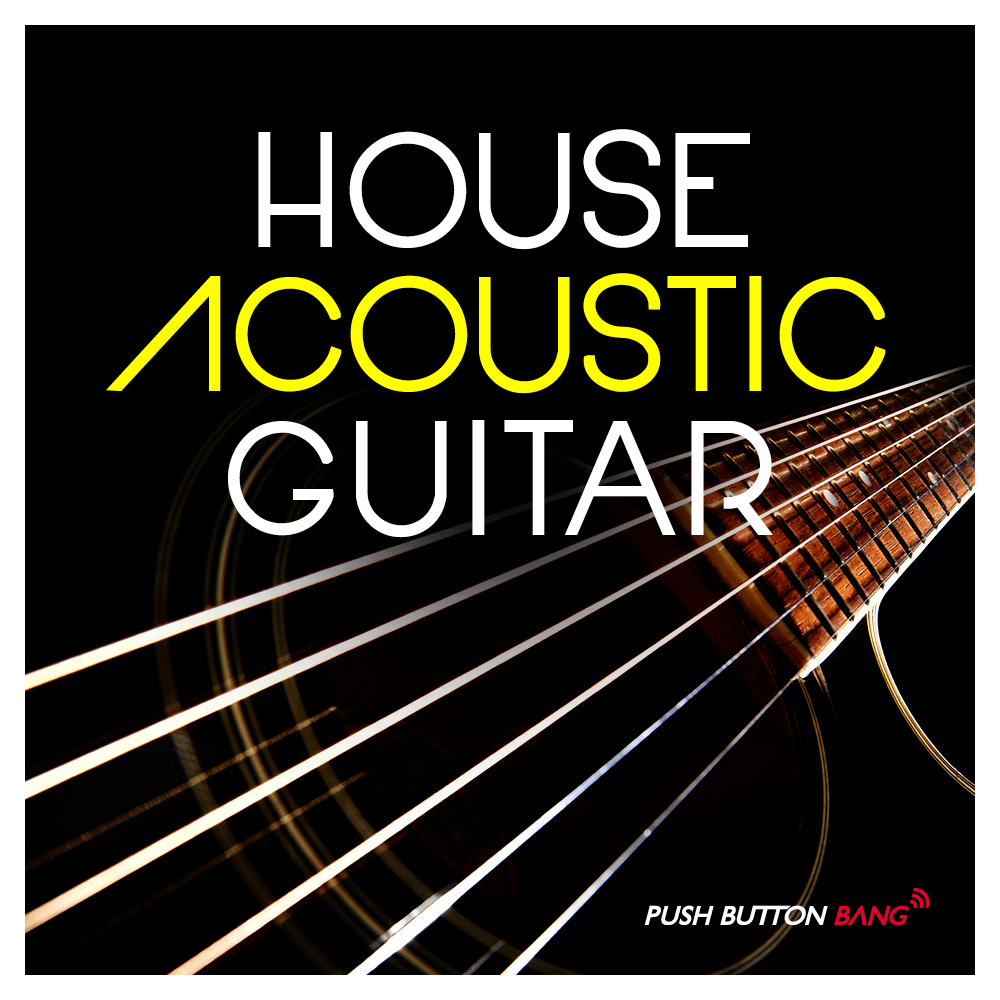 With Avicci's "Wake me up" proving that acoustic guitar can be a smash on the dance floor as well as the charts, Push button bang has put together a huge collection of acoustic melodies, rhythms and sounds to inspire the humanity in your house music!
Inside you will find a treasure chest of acoustic gold, with loops and samples ranging from emotional, euphoric melodics, high energy strum patterns, head nodding backing grooves to crisp, clean strums of all shapes and sizes, slaps, pops, ambient verbs, tails and experimental build fx.
Using a rare "George Lowden" acoustic with its own character sound, the sessions were recorded through dual AKG-451s, entering an Aurora Audio GTQC pre-amp/compressor, through Digidesign 192 converters to an SSL E series 4048.
Post recording, PBB got to work pushing the buttons – providing a wide palette of interchangeable loop sections for forming your own custom grooves. All loops have been processed and adjusted just enough to keep the timing excellent and retain a human feel, while fattening up the waves through custom processing with rich analog warmth and satisfying stereo spread.
Loops range in length from two to sixteen bars and share the same tempo of 128 bpm, making them usable for all sorts of EDM. Plus, as you would expect, every sound has been pre-mapped in an easy find folder structure, with the root note in of each sound recorded the filename.
With such an inspirational selection, it's never been easier to create a beautiful rhythmic track within your favored house styles. PBB invites you to program with a plectrum and embark on your own acoustic adventure!
MELODY_009_D
RYTHM_STRUM_005_A
AMBI_FX_012_G
STRUM_059_G
Tech Specs:
▪ 24 Bit Quality
▪ 600Mb
Contains:
▪ 400 loops and samples
▪ 220 Loops
▪ 180 Hits and Fx
Loop Content:
▪ 50 Backing Grooves
▪ 14 Held Note Sequences
▪ 80 Melody Loops
▪ 20 Plucked Sequences
▪ 32 Rhythm Strum Loops
▪ 24 Strum Fx Loops
▪ 128BPM
Single Hit Content:
▪ 30 Ambient Tails and Verbs
▪ 80 Clean Notes and Strums
▪ 30 Distortions
▪ 30 Scrapes Slaps and Pops
▪ 10 Swells
Disclosure of Material Connection: Some of the links in the post above and on this site may be "affiliate links." This means if you click on the link and purchase the item, I will receive an affiliate commission. Regardless, I only recommend products or services I use personally and/or believe will add value to my readers.
To Learn more about affiliate marketing and how to make money online join me on Wealthy Affiliate. These guys offer: Free Membership, Websites & Training to get you started.