Everything But Sticks Vol 3 Sonic & Rhythmic Unconventional Drum Loops & Kits
|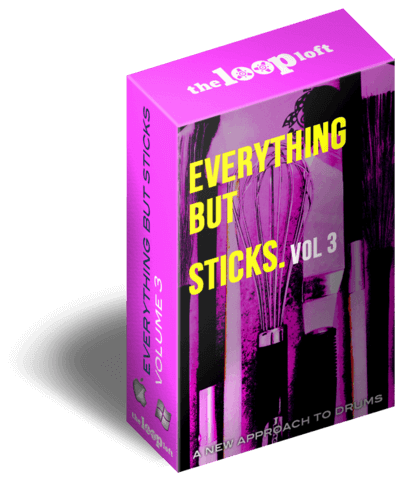 If you're looking for another loop and sample library that sounds just like everything else out there, this isn't for you. If you're looking for unique, evocative and inspiring drum grooves and sounds, then congrats. This is the collection you've been waiting for.
Everything But Sticks Vol 3 pushes "traditional" sonic and rhythmic boundaries by utilizing unconventional methods for drumming. Hitting cymbals and drums with a pair of license plates? Yep. It sounds awesome. Covering the drums with BubbleWrap and then playing them with various gardening tools? Yeah. The results are pretty cool.
Add another dimension to your next production and download Everything But Sticks Vol 3 today. You won't be sorry. And you won't sound like anyone else.
About Everything But Sticks
Let's be honest. 99% of the drum loops in existence use sticks. This isn't necessarily a bad thing, but isn't it time to do something different? The Loop Loft set out to produce Everything But Sticks, a collection of loops and samples that take a new and fresh approach to grooves on the drum set. By using a wide variety of brushes, mallets, bundles, kitchen utensils and even their bare hands, they were able to pull out an entire range of timbres and dynamics from the drum kit that sticks simply can't produce.
Specs:
Number of Loops: 308
Number of Samples: 79 (6 Full Kits)
Tempo Range: 74-163 BPM
File Size: 333 MB
Disclosure of Material Connection: Some of the links in the post above and on this site may be "affiliate links." This means if you click on the link and purchase the item, I will receive an affiliate commission. Regardless, I only recommend products or services I use personally and/or believe will add value to my readers.
To Learn more about affiliate marketing and how to make money online join me on Wealthy Affiliate. These guys offer: Free Membership, Websites & Training to get you started.