Over 30 GB's of Samples, Loops, Sounds, Vocals, Drums & More
|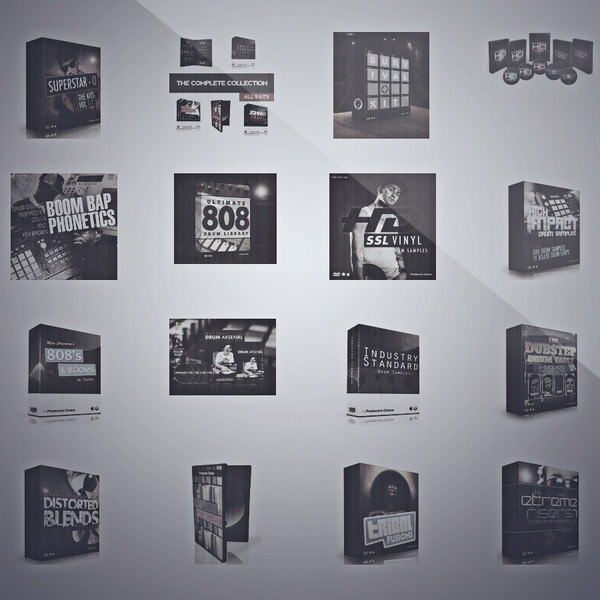 The Producers Choice 'Everything' bundle. It includes absolutely EVERYTHING from their huge range of samples, loops, sounds, maschine kits, kontakt libraries – Now Over 30GB all packed into one bundle!
If you want the quickest, best value way to secure ALL our kits then you've got it. Explode your sample library today with over 30GB of the best samples on earth.
Here's what you get:
Piano Sessions Bundle
Vocal Warfare
Foundations Loopkit
Reverse Engineer
336 Drumkit Volume 2 By Sean Divine
808 Warfare
Organic Drum Kit
Music Business Mastery Program
The Finesser Kit
Ultimate Production Toolbox V3
Stix Jam Pack
Give The Drummer Some – Djay Cas
Platinum R&B Vocals Vol 1
Ski Beatz – Iron Fingers Drum Kit
The 336 Drum Kit by Sean Divine
Massive Arsenal
Andrew Lloyd Drum Kit
The Cratez Drum Kit Bundle
Anno Domini Drum Kit Vol. 3
Urban Strings Sample Library
Massive Trap Presets Soundbank
Boom Bap Nostalgic Kontakt Library
Urban 808 Kontakt Library
Hip Hop Domination
Ultimate Production Toolbox 2
Urban Heat Drum Library
Ultimate Production Toolbox
Kprim Sylenth Presets Soundbank
High Impact 2 Drum Library
Pablo Beats Sound Kit Volume 2
Boom Bap Drum Kit
Electro Drum Samples, FX & Loops
Futuristic Drumz Kit
Twisted Vocals & Drum Sample Library
Experimental Trap Drum Kit
Lex Luger Drum Kit
Anno Domini Drum Collection Volume 2
All 7 Superstar O Kits
The Complete Drum Kit Bundle (5 Kits)
Survival Drum Kit
Sounds In HD Bundle (5 Kits)
J Dilla Style Drum Kit (Boom Bap Phonetics)
Sounds In HD – Ultimate 808 Kit
High Impact – Sounds In HD Kit
Mike Chav's 808's & Booms
Drum Arsenal by Mike Chav (5 Kits)
Industry Standard Drum Kit
Dubstep Drum Samples Vault
HD SSL Vinyl Drum Kit
Distorted Blends Drum Kit
150 Hip Hop Breaks
Tribal Fusions Drum Kit
Acoustic Blends Vol 1&2
Anno Domini Drum Kit
Extreme Risers, Transitions & FX
Infectious Harp Loops
Updated with 15 more Hip Hop Sample Packs.
Disclosure of Material Connection: Some of the links in the post above and on this site may be "affiliate links." This means if you click on the link and purchase the item, I will receive an affiliate commission. Regardless, I only recommend products or services I use personally and/or believe will add value to my readers.
To Learn more about affiliate marketing and how to make money online join me on Wealthy Affiliate. These guys offer: Free Membership, Websites & Training to get you started.